Welcome to Sound Snacks Music.
Where top notch custom composing and sound design is born. From video games to film score, we've got you covered on all levels. Enjoy taking a look around our site. For audio samples just click the link at the top of the page.
OUR PROFESSIONAL SOUND SERVICES INCLUDE:
GAMING:
Console/ PC Games • Online Games • Mobile & Handheld Devices
INTERACTIVE MEDIA AND ONLINE MARKETING:
Websites • Online Marketing Campaigns • Digital Marketing
ADVERTISING FILM/TELEVISION:
Feature and Short Films • Commercials • Trailers
RECORDING & PRODUCING:
Producing • Composing • Session Work • Engineering
Sound Snacks Updates
Sound Snacks has been featured in the January issue of The District Weekly magazine. Check it out!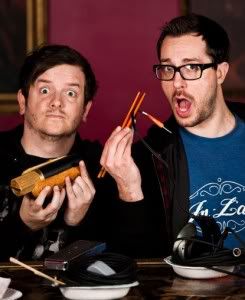 PHOTO by JEFFREY R. GOULD
STORY by MICHAEL COYLE
"When we were asked to do the video game, we realized this doesn't have to be a one-time thing. It has always kind of been a dream," says Wilder. "The end goal is for Sound Snacks to be a company that uses Long Beach's talented people to build an empire."
Skill City Games
We supplied the music and sound effects for each of the online puzzle games for Skill City Games in 2007. The score is mostly orchestral with a whimsical and sometimes adventurous feel. Music was also created for avatar and lobby areas. Click below to watch videos of the games and listen to the score.
(more…)